Images of St. Matthew's Harwell, Oxon
(formerly Berks until 1974)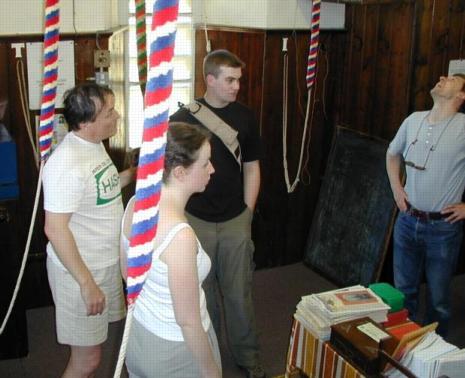 visitors in the ringing chamber, June 2002.
Notice the bell numbers on the panelling: 'T' for Tenor and 'I' for bell 1
which were put up in the 1960s by Major Morland from West Ilsley who started learning to ring when he was 70.
The sallies are from left to right: 7, 8, 6 and 1.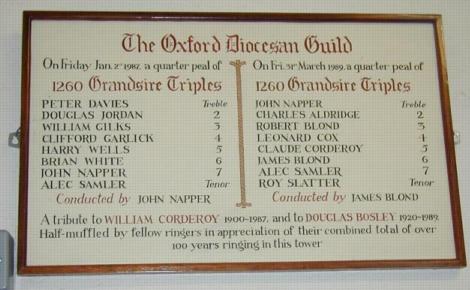 Peal board in ringing chamber
Many peals have been rung in Harwell. This picture records two memorial quarter peals in tribute to:
William Corderoy 1900 - 1987
Douglas Bosley 1920 - 1989.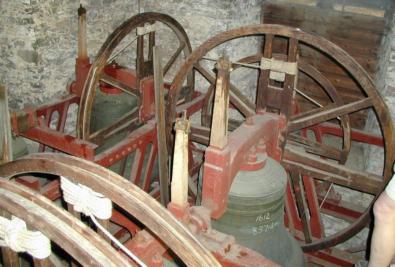 in the belfry
The wheels of the Tenor and Treble are on the right,
the Seventh is at the back and the Fifth and Fourth are at the bottom left.
Notice the unusual 'Hastings' type stays.



date on the oldest bell
The Fourth is dated 1590, with the '9' reversed. It can be seen on the right of this picture.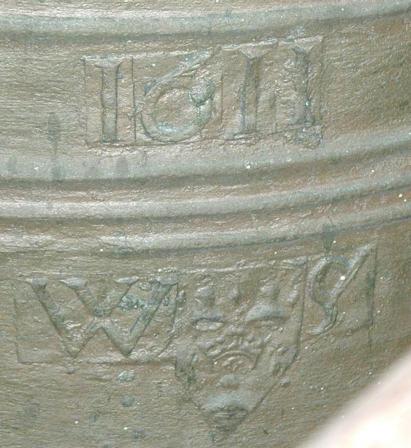 William Yare founder mark on the Fifth (1611).
---
Page last updated 20 January 2003
Click here to return to Bells Top page
Click here to return to Harwell bells page
---