What is a polyhedron?
First we define a polygon. This is a flat area surrounded by straight lines for example: A Polyhedron is the 3-dimensional version of a polygon.
It is made by joining polygons along their edges. For example six squares can be joined to form a cube: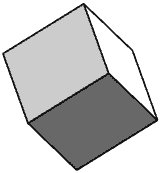 Other examples of polyhedra can be found here.
There are many books on polyhedra; here is a list of some of the ones we have used.

---
Why are Polyhedra useful?
Boxes
Most containers that we use today are polyhedra - usually cuboids which have six rectangular faces. However all that is really needed is that the container is closed (it has an inside and an outside) and other types of polyhedra can make attractive boxes. You can design these using our programs, send them to !Draw and decorate them with Clipart before cutting out the 2-dimensional form and folding it and glueing it to make a box. You can download some examples here. In particular, there are some boxes to make in the shapes of the 7 crystal classes.
Condensed matter and materials science
Studies of symmetry
Mathematical recreation
You can create any number of new polyhedra using our !Stellate program.
---
Page last updated 11 September 2003
Click here to return to our Polyhedron page
Click here to return to Fortran Friends Top page
---